I have had this set of candlesticks for a while, I like them but I have never really loved them. So, today they got a long awaited makeover. I can't wait to tell you about it! This is how they looked before and....
First I gave them a couple (or three?) coats of American Accents Heirloom White spray paint. Love this color - just a pretty creamy white. I used to could find this at Walmart but lately I have had to buy it a Hobby Lobby.
After the paint was good and dry I brought them inside to glaze them. Like many of you out there in bloggersville I used my go to glaze Valspar Mocha.
I used a smallish brush to give it a good coat of glaze, working it into the small details on the candlesticks.
I then used a way too small t-shirt that I cut up to wipe it off everywhere except in the areas I really wanted to stand out. I know it seems wasteful to put on so much then wipe it back off but really it is the only way I know to do it.
This is the look I was going for - just a subtle hit of glaze around those gorgeous details.
Hope y'all come back soon!
I am linking up to the following: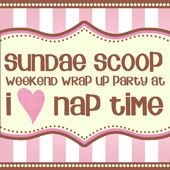 And to Polly Want A Crafter's New Link Party
here